How many times have you compared your journal pages to those you see on Instagram or Pinterest? Out of those times how many times have you felt discouraged?

Have you ever thought to yourself?
"I can't doodle." "My letters don't look as good as hers". or "I'm not good enough."?
Well, you aren't alone. I've been there and so have HUNDREDS of other people. You want a journal that is pristine and full of gallery worthy illustrations and wedding invitation style lettering. I get it. And I want to help you get there.
This course's main focus is to help you become confident in the creative aspects of your journal. With over 3 hours of real-time video instruction, accompanied by a comprehensive workbook and text-based instruction, this course offers a learning strategy that can work for anyone.
If you lack confidence in your creative skills and keep procrastinating on making "that one spread" or even starting your first journal, this course will help you push past that doubt, see your potential, and start creating spreads that you are eager to share.

I want you to love and enjoy spending time in your journal as much as I do. It can be one of your greatest tools in productivity, creativity, and organization. But if you keep giving up because you feel too pressured to create a "perfect journal", you may never get to experience those benefits. And you deserve to give yourself that freedom.
With lessons in artistic confidence, lettering, doodling, and layout creation, this course offers you the perfect jumpstart on your journal.
---
What to Expect in this Course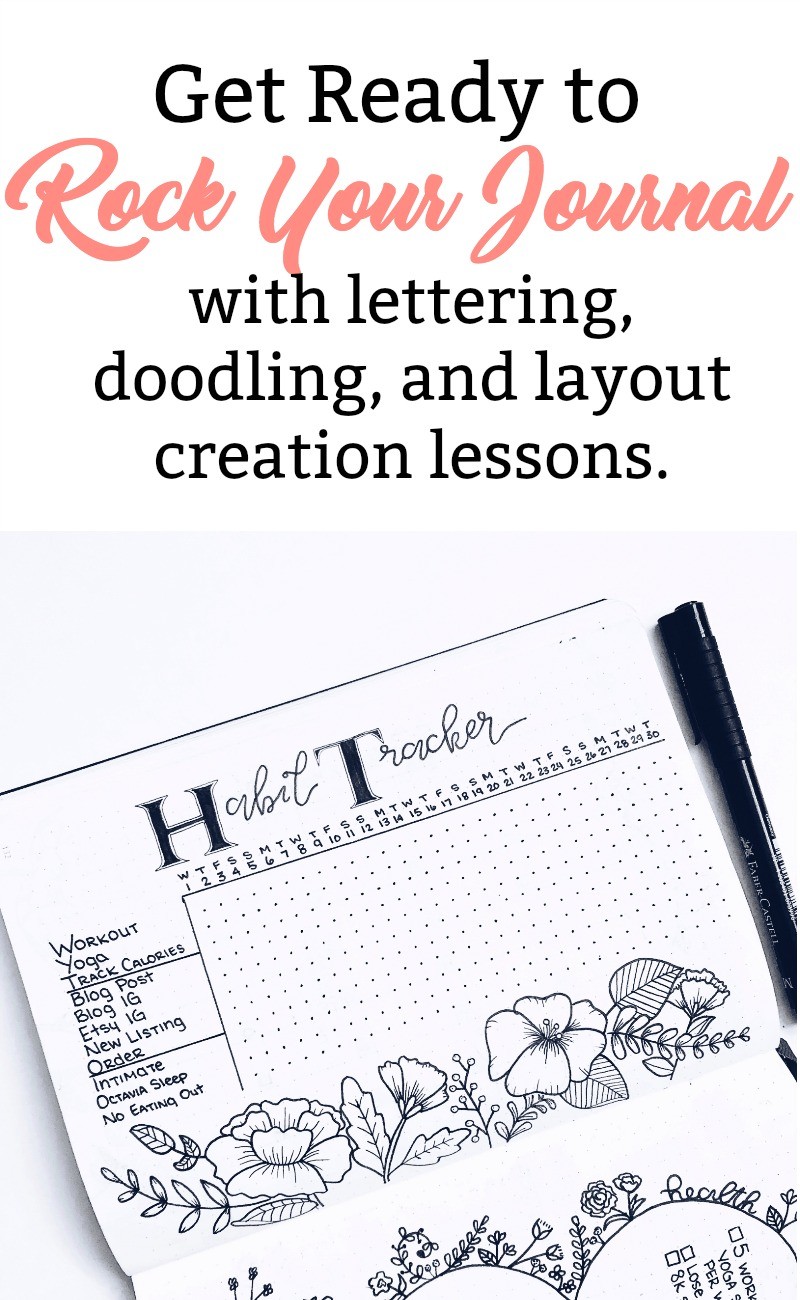 > 10 Lessons providing both written and video instruction in materials, confidence, faux-calligraphy, simple lettering style, doodle headers, floral doodles, layout creation, and more.
> Printable Workbook with worksheets that correspond seamlessly with each video lesson.
> Lifetime Access. Take this course at your own pace. Don't rush. And come back anytime you need a refresher.
>

Private Facebook Community. You'll be invited to join an encouraging and supportive Facebook community of other students where you can discuss your progress, questions, and creations. You'll also be able to reach me through this group to ask any questions you have.
> Live Weekly Tutorials and Q&As. Once a week I will go live in the Facebook group to share new tips and tricks, do on screen tutorials, and answer any of your questions.
> Money Back Guarantee. If you don't see results from this course within 30 days, you get your money back. No questions asked. There is no risk.